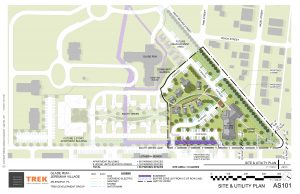 6.2021 Update
Jeremiah Village has launched a website at www.jeremiahvillage.com, and a phone number (724-453-8100) for inquiries. Applications will begin to be accepted on July 1, 2021, with cottage rental beginning September 2021.
11.2020 Update
Construction has begun, including the leveling of an outdated building and the beginning of installation of infrastructure. We're very excited to begin work on this long awaited project and partnership.
7.15.2020 Update
On Monday, July 13, 2020, Glade Run Lutheran Services (Glade Run)  and partner Trek Development Group received final approval from the Zelienople Council to begin construction on Jeremiah Village, a welcoming and autism-friendly community. The 44-unit inclusive and affordable housing development will be located on Glade Run's historic Zelienople campus, and construction will begin this fall.
"We are so pleased to have the support of the Zelienople council and borough and the partnership of Trek Development Group, who have helped us bring the concept of Jeremiah Village to reality." said Glade Run's President and CEO, Steven Green. "We have been thoughtfully planning this affordable community that is open to all – and welcoming and adapted for individuals with autism – for several years, and are excited to break ground on this long-awaited project that is much needed in our region."
7.15.19 Update
I am so pleased to share with you the news that Glade Run was successful in our application to PHFA for 
tax
credits
that will support Phase One of Jeremiah Village, an inclusive and autism-appropriate housing community on Glade Run's historic Zelienople campus. This news is a blessing and a result of the hard work and planning of Dr. Lockwood, our Board of Directors, and our staff before my arrival.  Trek Development, our project partner, will assume costs associated with the construction of Phase One, which includes a three-story apartment building and 10-12 cottages, found in the diagram above in red. Jeremiah Village will be constructed on the front 12 acres of our campus, at the intersection of South Green Lane and Route 68 at the historic Glade Run entrance pillars. It will provide much needed affordable housing in our region.
Thank you all for your support 
and prayers throughout the process
.  We have much work in front of us, but I am excited about this opportunity and the positive forward momentum that this project will generate for Glade Run. 
I will be sharing 
more information, including a tentative timeline, as it becomes available.
Steven T. Green, President/CEO, Glade Run Lutheran Services
We are happy to answer any questions. You can contact us using the form below.